The concept of performances of traditional songs arose approximately in the year 2014. That year we realized that the popular Galician songs, rancheras, habaneras and songs of the tuna had a great success when we sang them at the end of our performances during the skewers offered by the groups that had invited us to their festivals. It was precisely there when we learned that it was a good way to encourage the elderly people who reside in the nursing homes, so it would be appropriate to go to these centers with this repertoire better known by our elders and that transport them to their youth.
Thus, since the year of 2015, and within the Tanxedoira Choir, a small group was created, which also has other members of the other artistic groups, whose repertoire consists of reproducing songs and traditional and popular Galician pieces, as well as other well known, as they can be from the repertoire of the tuna, South American or Havana.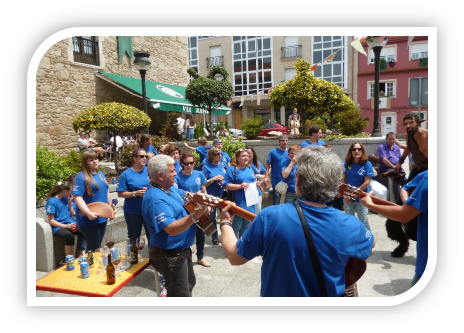 In July of this year 2015 was required to participate in a pass in the town of Vimianzo ("Cantos de Taberna"), acting later in his castle, on the occasion of the party Assault to the Castle.
In June of the following year (2016) he also participated in a parade organized by the City of Arteixo to tour its streets during the patron saint festivities. The Choir of Retirees and Pensioners of Baiuca and the Alcoa-Inespal Choir also participated in this event.
By the beginning of the 2016 course, specifically on September 24, this section of the choir participated in a slide in the neighborhood of Elviña organized by neighborhood merchants in collaboration with the Paxariñas Neighborhood Association.
In the following year, on September 16, 2017, the group was invited by the Association of Friends of Santaballa (Vilalba - Lugo).
Also in the year 2017 in the parade of the festivities of Elviña, culminating the performance in a box placed next to the Civic Center of Monelos and with the presence of His Excellency Mayor Xulio Ferreiro.